In 2019, the home of the annual Cambridge Immunology Forum will be Queens' College Cambridge. The date will be 13th September 2019
The 2019 meeting will focus on the complex and fascinating area of "Primary Immunodeficiencies". We aim to bring together world leaders in primary immunodeficiencies to provide a platform for scientific discussion, collaboration and the promotion of this exciting and developing field of research.
We are proud to announce that this year the meeting will take place at Queens'
College, one of the oldest and prestigious colleges founded in 1448.  After what will be an excellent opportunity for learning, discussions and networking, participants will have the chance to socialise over a formal dinner held at the College.
Additionally, PhD students and Postdoctoral scientists will have the chance to communicate their research during a poster session (broad immunology theme, no requirement to be PID-specific).  A number of posters will be chosen by a professional jury and receive an award!  Please indicate your interest in submitting a poster during the registration process and contact:  enquiries@immunology.cam.ac.uk
The deadline for abstract submission is Sunday 1st September 2019.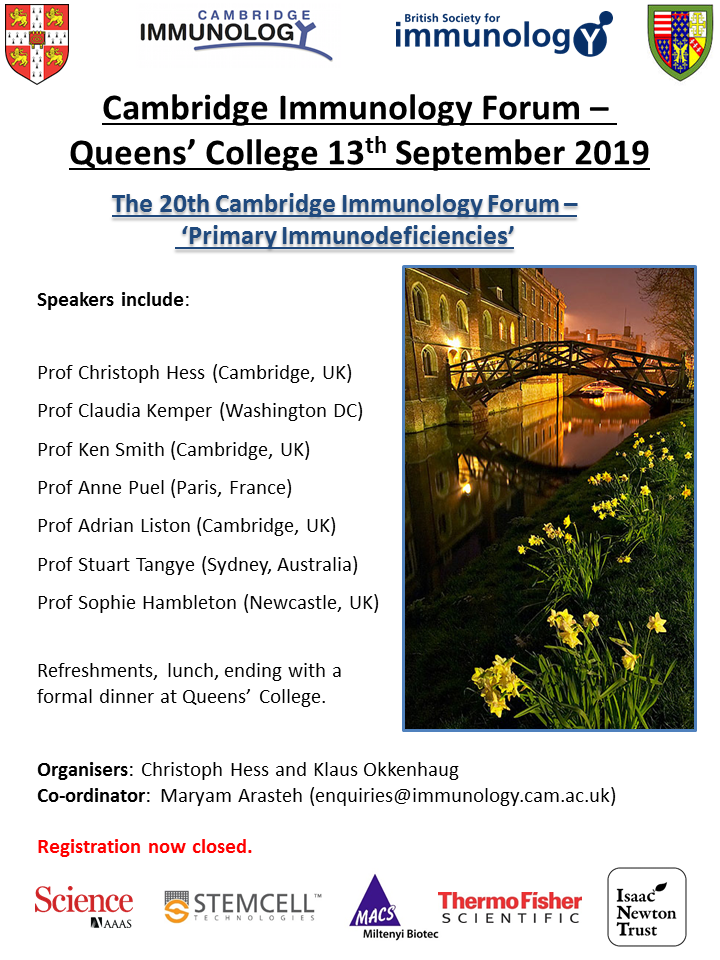 Date:
Friday, 13 September, 2019 -

09:00

to

20:00