In 2017, the home of the annual Cambridge Immunology Forum will be Queens' College Cambridge. The date will be 27th September 2017
Sponsored by British Society of Immunology (BSI)
Sponsored exhibition stands include Thermo Fisher Scientific, Stemcell Technologies, BioLegend UK Ltd and Miltenyi Biotec Ltd
The 2017 meeting will focus on the complex and fascinating area of "Tissue-resident immunity", allowing us to explore the increasing appreciation of the complexity and importance of local immune responses. We aim to bring together world leaders in Tissue-resident immunity to provide a platform for scientific discussion, collaboration and the promotion of this exciting and developing field of research.
As in previous years, we are hosting several distinguished speakers who have had an illustrious career in Tissue-Resident Immunity research.
This speakers confirmed so far are:
Professor Ulrich Kalinke (Hannover) 'Defence at the brain border'
Professor Reina Mebius (Amsterdam) 'Micro-environmental control of the immune system'
Dr Susanne Herold (Giessen) 'Macrophages in influenza virus-induced lung injury resolution and repair'
Dr Paul Kubes (Calgary) 'Tissue resident immunity in lung versus liver.  Two very different systems'
Dr Andrew McKenzie (Cambridge) 'ILC2 at the interface with adaptive immunity in the lung'
Professor Adrian Hayday (London) 'In search of natural tissue immunosurveillance: epithelial butyrophilins orchestrate local T cells'
Dr Menna Clatworthy (Cambridge)  'Extreme Living - Halophilic lessons from Kidney-resident mononuclear phagocytes'
Professor Dave Masopust (Minnesota)  'Immune Surveillance by Resident Memory T Cells'
We encourage and welcome all researchers (at all levels) who have an interest in immunology to attend this event. 
If you wish to submit a poster for the poster prize please add this option to the registration form and contact Tammy Dougan with a title. Posters maximum A0 and preferred landscape.
We look forward to seeing you there!
Please contact Dr Tammy Dougan for details.
Imagine courtesy of Clatworthy lab (Bladder)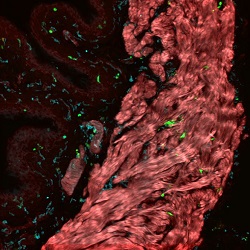 Registration OPEN!!! See below.
Date:
Wednesday, 27 September, 2017 -

08:30

to

18:00
Event location:
Queens' College Cambridge.