At present I am involved in the projects looking at the germinal cell response which is a key factor for production of high affinity antibodies and generation of immunological memory. I get involved with histology and immunohistochemistry for generating quality data representing and validating the results obtained by FACS.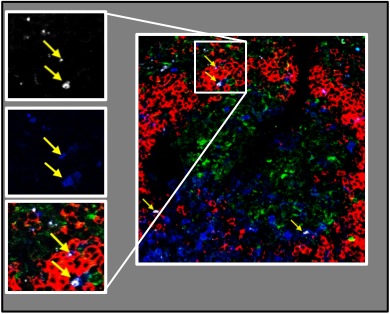 Spleen section from immunised mice at day7 stained with  an anti-IgD(red) , anti Bcl6 (green), an anti CD4 (blue) and Foxp3 (white).The B cell follicle is stained with an anti-IgD. CD4+ Foxp3+  regulatory T cells (T-regs) can be seen at the T-B  border.
Key publications:
Linterman MA, Pierson W, Lee SK, Kallies A, Kawamoto S, Rayner TF, Srivastava M, Divekar DP, Beaton L, Hogan JJ, Fagarasan S, Liston A, Smith KG, Vinuesa CG. Foxp3+ follicular regulatory T cells control the germinal center response. Nat Med. 2011 Jul 24;17(8):975-82. doi: 10.1038/nm.2425.